A Variety of Antique / Vintage objects and artworks!
Wonderful Vintage hand painted Horse Head sign. Not sure what this was used for…..I am guessing either flat track or harness race horse. Chipped off at the top of the ears, but the rest in fine aged condition. Two pieces of wood. attached right behind the head cloth. 23 1/2″ long and 15 1/2″ tall. Great paint. $125.00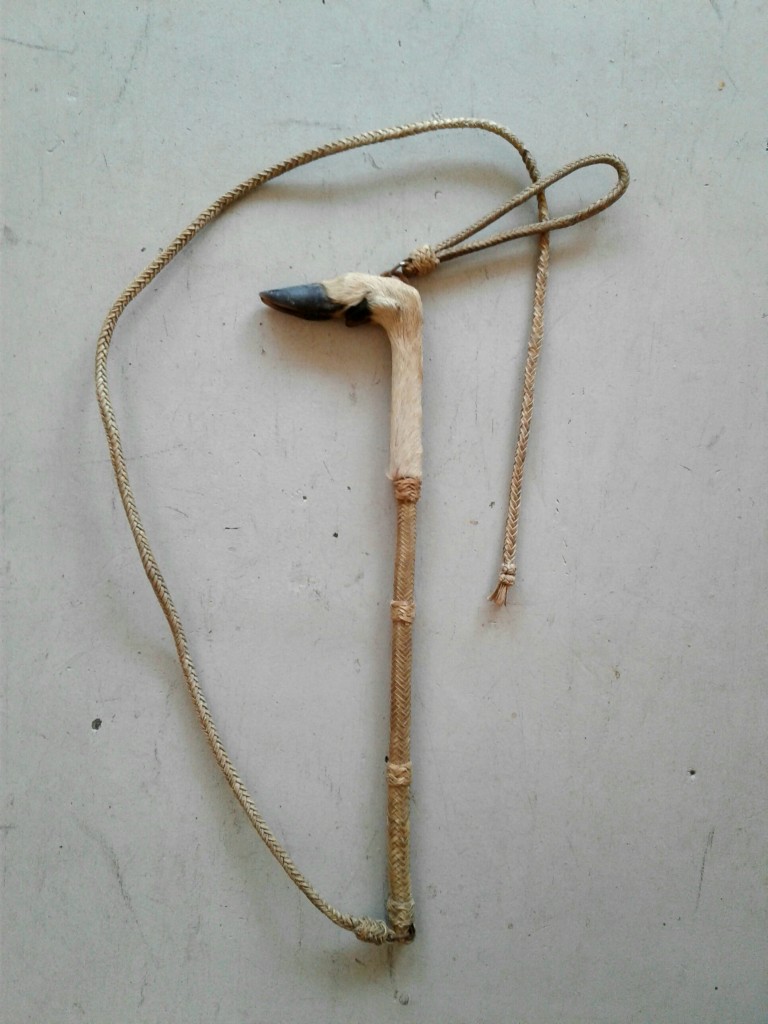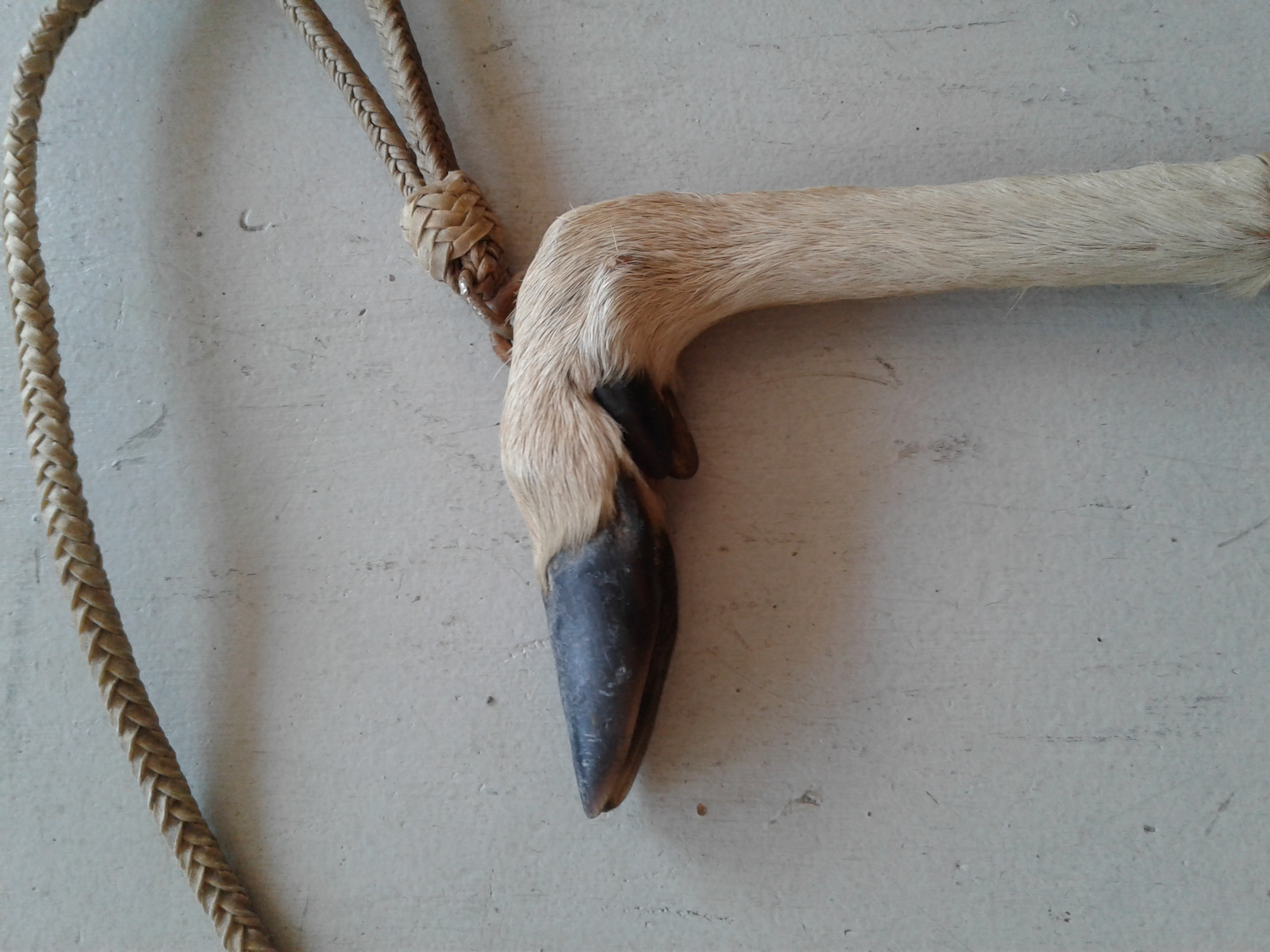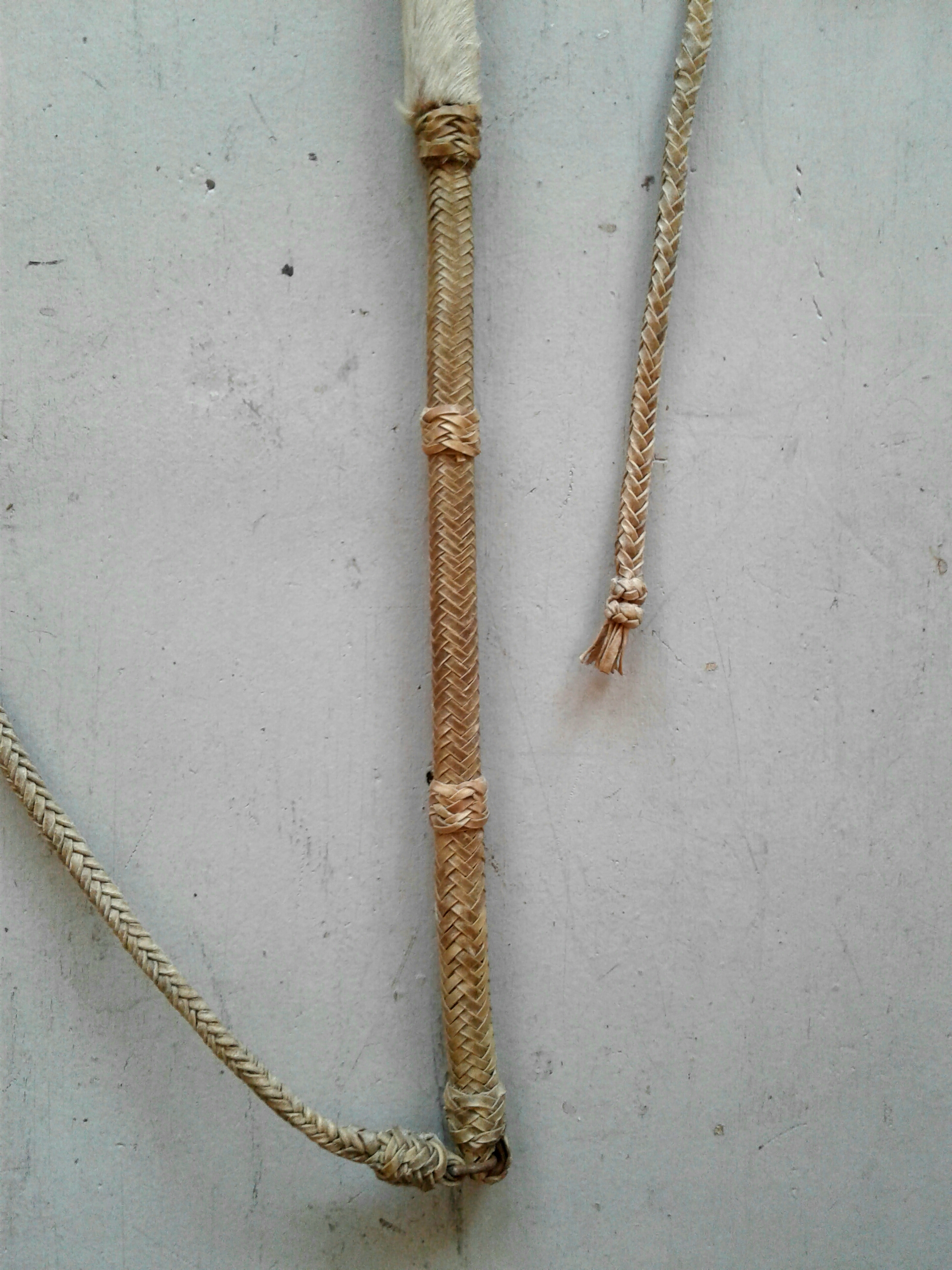 Vintage Deer Leg and woven Rawhide Fox Hunting Whip. $250.00. Great condition with no breaks in the weaving.
Vintage braided rawhide quirt – 24″ long in very good condition. One button missing on one of the ends. Elaborately braided. I think it could easily be one of those prison done pieces. $80.00
Vintage Handmade antler handled hoof trimmers. $40.00 each.
I absolutely love this little hand made wooden wagon that I just picked up. The parts are all hand carved. The wheels turn. There is no mark on it to tell me who made it, where or when. I wish I knew. The wood is heavy. 19.5 x 8 x 7″. Before I clean and restore it, I will offer if for $40.00, and you can restore it yourself. Contact me for a shipping quote.
 A lovely blonde warmblood or Belgian cross. This exquistie little carving stands just 3.75″ tall and 3.5″ long. Just beautiful with 4 white stockings and a wide white blaze her face. Could be a vintage dollhouse figure possibly carved in Germany. $60.00

This tiny carved wooden Iberian colt is marked "Spain" in his belly. Full of spirit at a mere 2″ tall and 3″ long for $40.00

I made this necklace at least 20 years ago. So that makes it a vintage Juliet R. Harrison piece. A wonderful turquoise horse fetish wrapped and strung on faux sinew, with opaque glass rondells and sterling silver beads. Just under 24″ long. Simple silver hook closure. $175.00
This Vintage reversable fetish necklace is made completely of carved bone. A very heavy piece, the horse head is carved on both sides with one having a painted turquoise thunderbolt arrow on it. The horse head is nearly 2.5″ long and wide. The fetishes that make up the chain include fish, beaver, frog, bear, rabbit, bird, buffal and fox. 33″ long minus the length of the horse head. cotton wrapped cord around the neck. $250.00

 Gorgeous vintage Navajo silver and turquoise cuff. This heavy older piece has 7 beautiful stones and a stylized leaf on each side. Thick silver makes it not recommended to change the size. Measures just under 5 3/4″ on the inside with a gap of 1 1/4″. Unmarked. $375.00

Vintage OLD PAWN Sandcast Cuff with large Turquoise. Unmarked, as many of these older pieces were. Stone is a beauty with silver inclusions and green cast in places. Nearly 3/4″ long. This stunning piece measure 5 3/4″ around the inside with a 1 1/4″ gap. $350.00

Tray with Horse shoes – A wonderful vintage piece of craftsmanship. 12.75 x 23″. $60.00.
Small metal horse and rider toy. Nicely detailed casting. 3 1/2 x 3 1/2″. Off white colored paint with nice age. Stands very nicely. $30.00
This exciting little guy is 3″ x 3″. I was told that he was a vintage museum replica of an iron age horse from Asia. $40.00
These little carnival horses can be exquisitely detailed. This looks to be a racing horse. The bob-tailed nag perhaps? Pot metal with a copper patina. Copper wire for reins. 3″ long by 3 1/4″ tall. $40.00.
A little horse sits atop this carved soapstone seal. The characters and the name Gaston are carved into the bottom. 2 1/4″ x 1″. $75.00
Unusual Copper toned Carnival Horse. More delicate then most of these that you see. In lovely English tack. The stirrups dangle loosely and the reins are copper wire. 3 1/2″ tall and 4″ long. Slight bend in one leg, but no breakage. (the green on the belly is a reflection) $40.00
"El Caballo De Oro Del Rey" print by Elwood F. Hendrickson. Dated 1948. I am trying to do some research on the artist and the horse, but nothing so far. It is titled, signed and dated in pencil on the front below the artwork. Overall size is 11 x 14″. $40.00
Brown Horse on Green – Intaglio print by Sharon Lees. Signed and numbered 1/10. 8″x8″ image. On heavy watercolor type paper. $75.00 plus shipping. Contact us for a more detailed jpeg of the piece to be emailed to you.
---
Signed Artist Proof Prints #0/13 by Walter Elting (artist, businessman, philanthropist and sportsman)
Walter Elting – Hunter. Vintage signed Artists Proof #0/13. 5″x7″. $75.00 plus shipping.
Walter Elting – Jumper. Vintage signed Artists Proof #0/13. 5″x7″. $75.00 plus shipping.
Vintage intaglio print by Walter Elting. Dated '91. Signed and marked A/P #0/15. 4×5″ image. $75.00